Some 1,557 Fresh Men and Women have pledged their commitment to remain focused and respectful as they take on their academic journey of transformation at Biaka university institute of Buea BUIB. This pledge to obey the rules and regulations guiding student's conduct and discipline in BUIB and to adhere to academic honesty was publicly expressed during the matriculation ceremony of newly admitted students for the 2022/2023 academic year.
Officially welcoming students as bona fide of BUIB, the Pro Chancellor Prof. James Porthood implored students to uphold the values of this noble institution and to take advantage of all the services provided by the institution in providing professional knowledge. He further urged matriculants  to be prepared to prove their worth and earn their place in the society.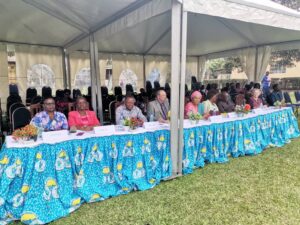 While delivering an academic discourse during this remarkable event, Emeritus professor Tchombe Therese invited students to transform the skills obtained to processes that will address societal problems .she reiterated the importance of Assignments and urged students to take this aspect seriously and also endeavor to work in groups for this she says makes learning easier.
During the taking of the matriculation oath, the registrar of BUIB Dr. Mrs. Veronica Ika Visemih, beseeched students to stay focused on what enhances their studies in BUIB and to stay away from any deviant behaviors that do not reflect the values of the institution.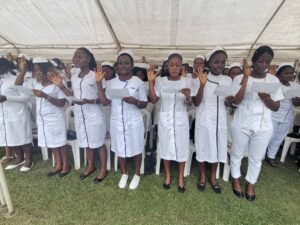 The ceremony which Marks the formal integration of new students into the university system and an  Official induction of the students witnessed the installation of the student Government by the Vice Chancellor Dr. Mrs. Fancisca Hongla Biaka.
The matriculation ritual which took place on campus this 10th day of November 2022, saw the presence of students from the different Schools of BUIB; the School of Education, Management Sciences, Engineering and Technology, Agricultural Sciences and Health Sciences. BUIB matriculation ceremony   comes a day before the 2022 graduation ceremony of BUIB scheduled for November 11th at 8.am.