The journey which started some 25years ago as St Francis School of Nursing and Midwifery in 1998 and later upgraded to Biaka University Institute of Buea (BUIB) in 2016 has been steady and continuous with same enthusiasm and standards in breeding professionals. Today the 14th of March 2023 marks another vital stride for BUIB as it enters into a specific agreement with the University of Buea for mentorship of BUIB programmes in the School of Agricultural and the School of Engineering and Technology.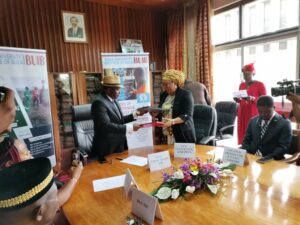 During this signing ceremony, the Vice Chancellor of the University of Buea professor Horace Manga expressed words of satisfaction and appreciation working with BUIB this far while highlighting that the event is an indication of a continuous collaboration. He reiterated that this bond is meant to guide the mentee institution BUIB in maintaining the quality of curriculum, teaching, and all other elements associated with the transmission of skills to students as prescribed by the Ministry of Higher Education.
Representing the Minister of State, Minister of Higher Education, Mrs. Eza nee Abatte Jeannette congratulated BUIB for her dedication and commitment exhibited over the years while cautioning that the terms of the agreement should be respected to the later for better collaboration and training.
The Vice Chancellor of BUIB Dr. Mrs. Francisca Hongla Biaka in her humble style, saluted the contributions of the mentor University – UB in bringing BUIB this far. She reassured the team of being rigorous in training as it has always been the case in achieving the mission of the University, one which prides itself as having the audacity to be different.
This extension in mentorship comes at a time when BUIB puts all hands on deck to celebrate 25years of excellence in training this year 2023. Biaka university Institute of Buea now runs five schools: the School of Agriculture, the School of Engineering and Technology, the School of Management Sciences, the School of Education and the School of Health Sciences.