910 graduates from the prestigious Biaka University Institute of Buea, have been called to be resilient and unique in perusing their goals and above all, never to give up on faith as they transit to a new phase in their career. This call was made during an Academic Discourse by Nfon  Mukette IV Ekoko at the 2022 graduation ceremony of BUIB Celebrated on November 11th 2022.
Present to celebrate this milestone was the Minister of State, Minister of Higher Education represented by Professor Wilfred Nyongbet Gabsa -Secretary General of this Ministry who during the event extoled the efforts by the entire staff of BUIB in the realization of this success -"you should consider this memorable academic jamboree as a celebration of your good work, of the knowledge you impacted on today's graduates. Please accept the words of gratitude from the Minister of State, Minister of Higher Education for a job well done".
The Vice Chancellor of BUIB Dr. Mrs. Francisca Hongla Biaka saluted the brilliant performances by these graduates from the undergraduate and postgraduate programmes in the School of Management Sciences, Health Sciences and Education. In a special way she praised the graduates for making BUIB stand out of the crowd as the best University Institute at the 2022 Higher National Diploma –HND examination. While highlighting the improvements made in the areas of infrastructures and partnerships among others to boost the effectiveness in teaching and learning at BUIB, the VC in her presentation, reassured parents of the quality of education BUIB will continue to offer to her students.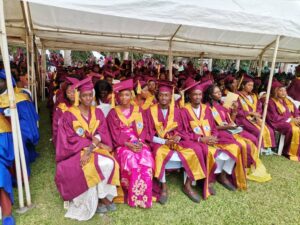 At this 2022 carnival, the University applauded and acknowledged the exceptional performance by the overall best student Aduba Ifechukwudeni Emmanuel who from a total of 4GPA, emerged with a GPA of 3.93 from the department of Nursing. Prizes in cash and in kind were awarded to him alongside other best students from all the different programmes.
Present at the graduation ceremony were over 2000 participants including a representative of the University of Buea, the Nigerian Consul General for the Northwest and Southwest Regions, Regional Delegates, Religious and Traditional authorities, parents, friends and well-wishers of BUIB.