The 2020 Global Week for action on None Communicable Diseases ( NCDs) was observed recently from September 7th to  11th 2020 in rural areas of the Limbe Health District in the South West Region of Cameroon. Activities aimed at empowering nurses to care for diabetes patients in rural areas of the Limbe health district as well as transporting patients from these rural areas to urban diabetes centres where they can receive specialist care.
Funded by World Diabetes Foundation (WDF) and Biaka University Institute of Buea (BUIB), the Health Research Foundation (HRF) Buea, in collaboration with Biaka University Institute of Buea (BUIB) have successfully trained 52 nurses to manage patients living with diabetes.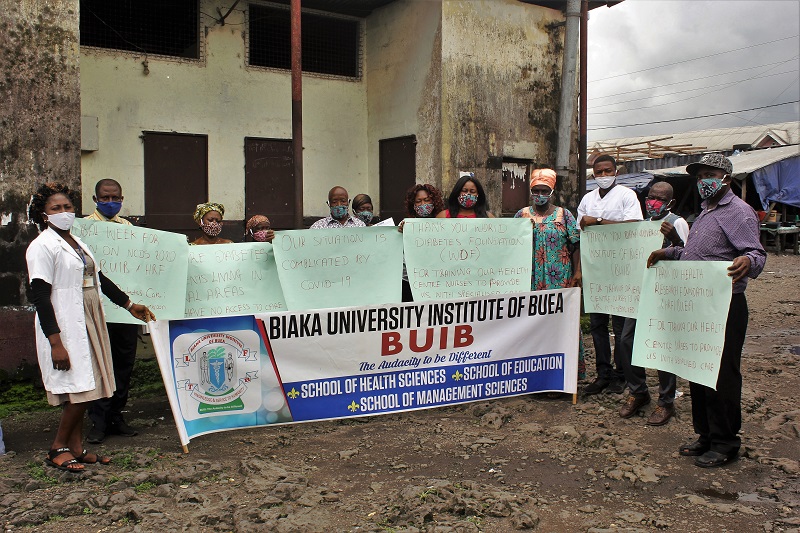 It is worth noting that, according to the 2019 International Diabetes Federation (IDF) atlas, the rural prevalence of diabetes In Cameroon has been estimated to be between   7% – 10.5% in French speaking regions and 3.8 – 4.9 in the south west English speaking region. In 2020, Leke and colleagues estimated that almost 68% of persons living with diabetes in the rural South West Region are unaware of their status.
These findings support reasons for the fight against diabetes especially in rural areas of Cameroon. Holding under the caption "We Keep Our Eyes Fixed on Diabetes- the Silent Killer in Rural Cameroon" this initiative will go a long way to curb the number of deaths in Cameroon as a result of diabetes.