It was a moment of handshake and excitement as staff and students of Biaka University Institute of Buea converged once again as one big family this 3rd day of the year 2023 to continue with the first semester of the academic year.
Festive days are over and work has commenced at BUIB with lots of enthusiasm and expectations for the New Year 2023. Mbu Mary, student of the department of Nursing in the School of Health Sciences, expressed joy for making it to 2023 and looks forward to a more exciting encounter with her school mates and lecturers who according to her, have been committed to their responsibility in providing quality training at Biaka University Institute of Buea .
On her part, Mrs. Nyah Celestine, Head of Department of the Records office thanked God for the New Year and looks forward to a year full of love, togetherness and hard work among members of the BUIB family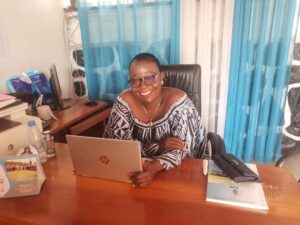 The Resumption of school kick started with a thanksgiving Mass held at the chapel during which Rev. Fr. Peter Maza , Chaplain of the Institution, reminded Christians of the goodness of God as the Catholic Church today celebrates the most Holy name of Jesus while praying for blessings upon all throughout the new year.
This year 2023 it must be noted is a significant year in the life of the institution which grows Silver in its mission of providing standard education. This 25years anniversary would be celebrated in grand style in the months ahead.