Final year State Registered Nurses have exhibited mastery of their research projects during the first ever defense session organized nationwide in this department. The academic exercise which is one of the requirements for certification makes up 30% of the total certificate examination.
The defense which kicked off this 4th day of October 2022 is significant in the life of both students and the School of Health Sciences. For the student, it gives them a sense of understanding and accomplishment as they walk through to another stage in their career path. Lecturers on their part see this as an opportunity to assess the contribution made in the academic journey of the students.
Speaking to the students, Atanga Nsoh Esther noted that it has been three years of rigorous training at Biaka University Institute of Buea which has brought them to the success point. She expressed heartfelt gratitude to the lecturers who ensured the realization of their dreams.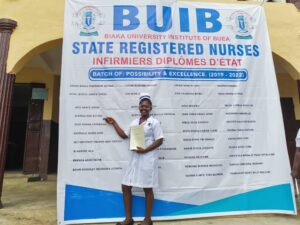 According to some, the learning process has just started as they plan to take up their degree progamme this academic year. Others look forward to embracing the job market in the days ahead.