Students of Biaka University Institute of Buea (BUIB) have been called to make the library their companion throughout their academic journey. This call was made this Tuesday the 17th of January 2023 by the Library Director of the University of Buea Prof. Rosemary Shafack, during the second library open day for the St Francis library of BUIB. In her presentation titled The Library- a student's  Companion, the guest speaker Prof. Shafack reminded students that a 21st century library is not limited to buildings stocked with a collection of books, but includes both the virtual and onsite collection of books, journals,  newspapers and other useful documentations available and accessible for the provision of knowledge in diverse fields.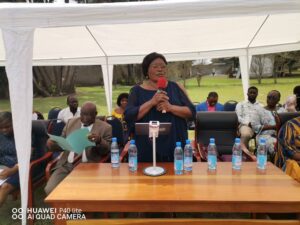 She added that access to information is a fundamental human right to be used within the law and that information is inevitable in the process of education and transformation.
The Guest Speaker challenged students to make use of the library available to them which she describes as veritable and as the heartbeat of every academic institution.  Information she noted must be used ethically and the library will help students get the right information, build their skills and impact positively on their community.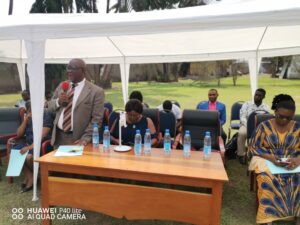 Representing the Vice Chancellor, Prof Fonkeng George, DVC in charge of Academic Affairs and Research, lauded the guest speaker for her succinct and rich presentation which according to him will greatly influence the reading and research habits of the students.
The event was graced by quizzes and a debate on "the impact of library usage on the performance of BUIB students at semester, national and international examinations" of which those who defended the importance of the library, carried the day as they strongly convinced the jury and other participants that the role of a library is inevitable in the success of students and that a library is to a student as water is to a fish.