Parents and friends of students at Biaka University Institute of Buea gathered this Thursday 27th of October 2022 to witness one of the key academic activities of Master's students in the School of Management Sciences as they complete their programme after two years of rigorous training.
This thesis defense by the third batch of students in the School of Management Sciences has been described as vital in the assessment process as it seeks to expose students to some of the realities they will find on the ground either as job creators or employees.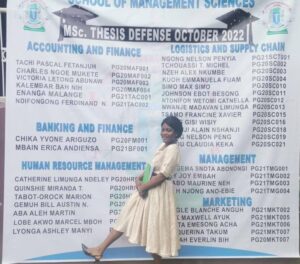 It has been joyful event to these students who during their presentations, exhibited total mastery and understanding of the subject matter as they provide recommendations in addressing specific problems.
According to Mr. Ntangsi Max- Consultant and acting Director of the School of Management Sciences, Such quality output by the students can only be explained by the young, vibrant, experienced and qualified lecturers who guaranteed just the best training for these students.
Similar academic exercise also runs in the School of Health Sciences whose students have exhibited nothing less than eminence after their training at BUIB.
Come November 11th, these students and others from both the School of Management Sciences and the School of Health Sciences, shall flaunt in their robes in celebration of hard work during the 2022 graduation ceremony slated to take place on BUIB's Campus