''The quest for quality education is the only reason why you find yourself at Biaka University Institute of Buea. Do not be distracted, stay focused, respectful and above all, behave like the students you are for maximum achievement of your goals''. This summarizes words of caution by the Vice Chancellor of BUIB Dr. Mrs. Francisca Hongla Biaka as she welcomed new students during the BUIB 2022-2023 general orientation ceremony  organized to keep students abreast with the operations and amenities offered by  the different departments of the University. Assembled in the halls of classroom block, these over 1,400students were briefed on the expectations, the does and the don'ts of the university as well as the structure of the institution just to mention these few.
Addressing students at the event, the DVC in Charge of Academic Affairs, Research and cooperation Prof. Fonkeng  George congratulated the students for choosing Biaka  University  not as the first choice but as the best choice. He further reminded these students that life tastes better only with education and thus called on them to be regular in class and to always work towards achieving nothing but the best.
In addition, Prof. Fonkeng called on students to emulate their predecessors who have recorded brilliant results in the past years and given the university the rank as best Private Higher Education Institution at the 2022 HND examination in Cameroon by the Ministry of Higher Education.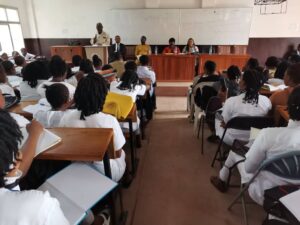 Furthermore, students were   sensitized on the course registration process, the flow path for school fee payments and other financial transactions, facilities offered at the library and the teaching hospital among others.
Students were further called upon to maintain good interpersonal relationship with their fellow students as well as with the staff so that they can better enjoy their stay as students of the Institution which has the audacity to be different.
The orientation exercise shall continue in the days ahead  at the level of the different schools.
These over 1,400 students shall be received officially by the University come Thursday 10th November 2022 during the matriculation ceremony.