"Joy to the world, the Lord is come, let earth receive her King….." these words echoed in a beautiful melody  as the lights of  Christmas brightened the esplanade of St Veronica Medical Centre during the lighting of the Christmas tree event which took place this Tuesday the 20th of December 2022 at the Biaka Complex. A yearly tradition meant to celebrate as a family the birth of Christ, was thrilled with melodic Christmas carols by the talents of the BUIB Choir.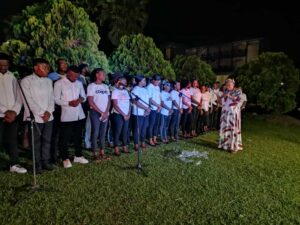 Opening the ceremony, the Vice Chancellor Dr. Mrs. Francisca Hongla Biaka, used the opportunity to thank God for the gift of the students, faculty and staff of St Veronica Medical Centre while praying that the joy that comes with the birth of Christ should live with them and their entire household. She challenged all to rejoice, forget about all that troubles them and focus on Christ who is the supreme giver of all that is good.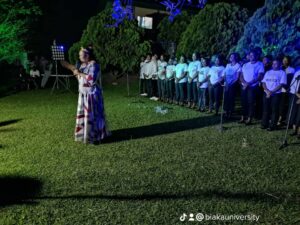 During the celebration, participants enjoyed gifts from "Fr. Christmas" ranging from Christmas balls, caps, glasses and flowers just to mention these few. This exhibits a sign of love and togetherness that exists among staff and students of this Complex.
This celebration was followed by another show of love from the management of the Complex who in their usual style offered gifts in kind to all members of staff including rice, oil, tomatoes among others.  Staff members on their part expressed gratitude to the movers and shakers of St Veronica Medical Complex for their all-time love and support.